Thee Oh Sees - The 8-Track Collection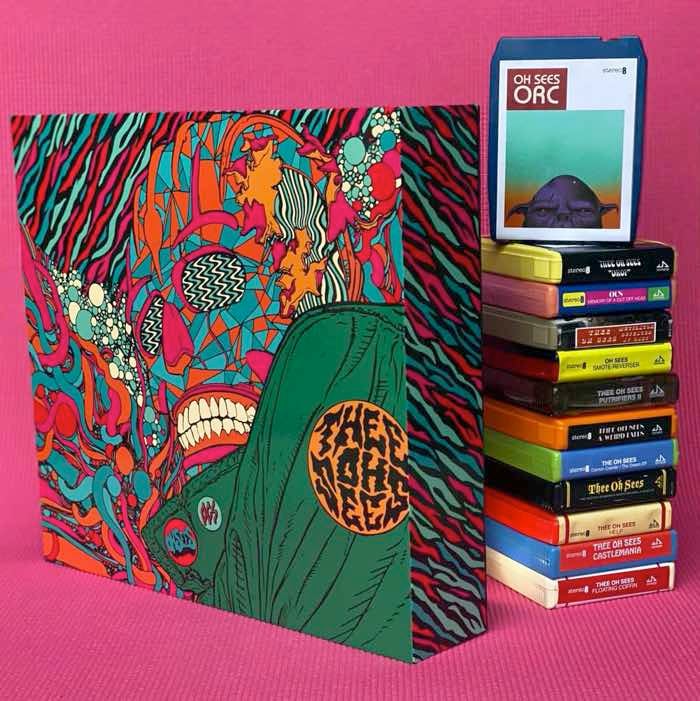 Discogs link:
https://www.discogs.com/Thee-Oh-Sees-OCS-Oh-Sees-The-8-Track-Collection/release/14435971
collectors beware
your gathering of arms is dangerously close to incomplete
the wizard has shook his crooked stick and *poof*
a thing of beauty
12 selected full albums from the discography of john dwyer's oh sees, thee oh sees and OCS
ranging from 2008-2018
the meat of the beast
this touring machine has time machined back in time to plant their kisses upon a plethora..no, a rainbow of 8 track cartridges
professionally dubbed and packaged beautifully (fest your peeled peepers on the pictures below)
with art by ELZO DURT ( ocs live, carrion crawler artist)
flourished with fan zine, iron-on patch pins and stickers
its a tank
had to search through many dimensions to unearth this arcana
and it took a master to wrangle it all into shape for this very special and limited release
niche? yes
substantial ? yes
fucking cool?
we think so
cheers big ears
jpd
RELEASE INFO:
Here it is, the official and very limited collection of 12 Oh Sees, Thee Oh Sees, OCS Albums on Stereo 8-Track Cartridges. Only 100 hand numbered boxsets were made with only 60 going up for sale to the public, (the rest are going to the band and all the volunteers that worked on this release). It took us well over a year to make these 100 sets, so this is the first and final edition of this massive boxset. Once these are gone they are gone. Every 8-track cart in this collection was reconditioned by hand from 40+ year old cartridges and each album is on a specific color and hand numbered cartridge. No expense was spared making this limited boxset with original artwork by ELZO DURT, and which includes 130 songs and over 8 hours 21 minutes of music. The release includes a 36 page zine (with the making of the release, 8-track history, album info, band posters from throughout the bands history and more), a limited edition 5"x7" photo signed by JPD himself, and some extra goodies (3" patch, stickers, buttons).
More pics on our website www.podercrudo.com
- Price: At $420, this release is not cheap. We wanted to mention that we are actually selling this release at cost and are not making money here. Truth be told we are actually losing a couple bucks on each set, this project was really a labor of love for us. Unfortunately 8-tracks are very manual and expensive to make. Each of these 8-tracks was reconditioned and rebuilt by hand in texas. Also, given the small run size, the custom designed boxset ended up being very expensive per unit. There had never been a 8-track boxset for 12 carts so we had to make a ton of different prototypes and create our own design which wasnt cheap. We really wanted this set to be more affordable, but we couldnt do that without big compromises on the quality or the number of albums. We are really pumped how it turned out.
- Set Condition: All of these carts were reconditioned from previously owned pre-loved 40+ year old 8-tracks. That means that these 8-tracks have been beat up and played in old pickup trucks for decades, they are NOT going to be mint condition. Each boxset will be unique because each cart will be completely different. Also, given the carts are all different sizes, shapes, and different manufacturers, the newly printed labels are going to sit on the carts differently and the labels will show some signs of wear in different places as they mold to the carts. In other words dont expect a flawless mint set that came straight off the factory floor.
- US Shipping options - In the USA we send the boxes through media mail, which is pretty fast and cheap. If you want to upgrade to a different shipping just checkout with the standard media mail shipping and email us and we will let you know how much extra it would be for faster shipping.
- Insurance - For US shipping through media mail, we will include $400 insurance automatically. Its only $4 bucks extra, which seems worth it. If you dont want insurance and want to save the $4 bucks email us. For international shipping we also add $400 in insurance to the shipping purchase, the cost is only about $6 usd so it should be worth the peace of mind.
- International Shipping - This is a big boxset and we package it up carefully in double thick walled boxes. That means the shipping is expensive outside the USA. In the USA we can use media mail which is pretty cheap, but outside the USA the shipping is between $80 and $120 bucks. We are sorry, we wish there was a cheaper option. The only way to reduce shipping costs oversees is to share shipping with a buddy >
- Shared shipping - We normally limit items to one per person to dissuade flippers, however given the high shipping cost for international markets, we are ok with folks buying 2 boxsets in the same order to split the shipping between two people. You can either add 2 boxsets to your cart OR checkout separate and email me afterward and I will refund the second shipping charge.
- WA, CO, OR Buyers: We want to help folks save as much money on this purchase as possible. If you are an interested buyer in Seattle, Portland, Denver, or Salt Lake City we can save you some money on shipping and paypal fees. Purchase and pay for the set and contact us and we can work out a in person delivery. Seattle WA buyers will have to pay in state taxes since we are based out of WA, so if you want to save that 10.5% (plus shipping plus paypal fees) buy the set to reserve yourself a box, Il refund you and hand deliver the boxset to you. Easy peasy
- Specific # Set - If you have a lucky number and you really want to have that # (the set and all individual 8-tracks are hand numbered) then send us an email to [email protected] with that number (or a few numbers). We will do our best to oblige. 1-11 are already taken (by the band), so is 57 and 100 and a few other numbers. Other than that we will assign set # requests in the order they are received.
- Release Info:
https://www.discogs.com/Thee-Oh-Sees-OCS-Oh-Sees-The-8-Track-Collection/release/14435971